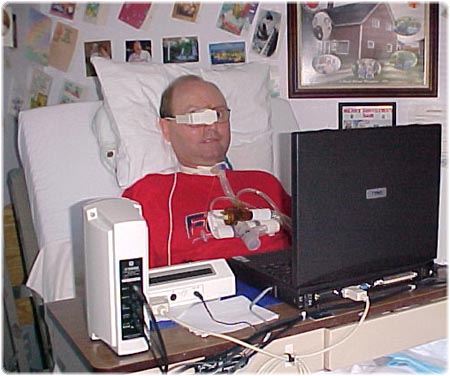 Technology to keep an eye on!
Welcome to H.K. EyeCan Ltd. and our VisionKey™ Series of eye-tracking products. VisionKey offers hands-free communication for both alternative and augmentative communication (AAC) and full computer control using only eye movements. With VisionKey's voice synthesizer, users can also "talk" what they type. Users can create documents, use email, play games, surf the net and listen to multi-media sound. The system works with standard software applications and on-screen keyboards and also with both PC's and Macs.
Our products have helped those worldwide with Amyotrophic Lateral Sclerosis (ALS)/Motor Neurone Disease (MND), Locked-in-Syndrome (LIS), Muscular Dystrophy (MD), Cerebral Palsy (CP) and High level Quadriplegia. Our scanning model is of particular benefit to those with Brainstem Stroke and Locked-in-Syndrome; it offers all the functionality of our regular control model, but users need to look in one direction only.
As VisionKey is a wearable keyboard, users can be sitting, reclining or lying in bed to operate the system. Our users have written books and poetry, used VisionKey at work, published papers and developed web sites all using VisionKey.
Our latest product upgrades, VisionKey 5.3, 6.3 and 7.3 offer our users increased stability.
Visit the rest of our site to see what VisionKey can do for you.
---
Copyright 2001-2015 H.K. EyeCan Ltd. All rights reserved.
VisionKey is a registered trademark of H.K. EyeCan Ltd.